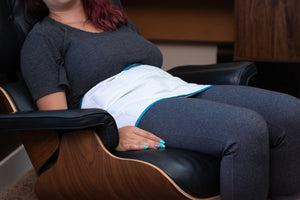 Professional Grade
DentaCalm Mini™  applies soothing weight that eases discomfort. Ideal for when you want concentrated effectiveness or less coverage.
DentaCalm Mini™ is made with medical-grade, water-resistant woven nylon fabric. They can be wiped clean with pre-saturated disinfectant wipes (e.g., CaviWipes™) or thrown into a front-loading washing machine. And they conform to disinfectant protocols for multi-patient use environments.
Technical Information:
Made from medical-grade, hypoallergenic nylon fabric
Available in a variety of sizes and weights
Filled with glass microbeads
Cleanable in a washing machine or with disinfectant wipes
Includes a one-year warranty
Usage:
For warmth: Heat to a maximum temperature of 130° F/55° C and let the retained heat radiate and soothe.  DO NOT use in a microwave oven.
For cooling: Chill your DentaCalm™ blanket in the freezer for 15 minutes and enjoy the comforting cool of the glass bead filling.
Dimensions: 28" x 12"
Weights: 5lbs (2.3 Kg)
Please contact our sales team at 1 (877) 289-4163 to discuss orders of over 12 blankets.  Custom color options are available for large-volume orders.